I had originally penciled in a panel entitled, "You Sent us What?" on what readers and submission editors look for, but I decided to skip it because really, how many ways can they say, "send us your best work"? Instead, I spent some time revising one of my stories set in Los Angeles to submit it for an AWP contest being held by Northridge Review.
Fulbright Grants in Creative Writing
Our first panel of the day was short-staffed courtesy of what Robert Strong, the moderator, dubbed "AWP flu." But with the two panelists, one who traveled on a scholar grant and the other who traveled on a student grant, and the moderator who is the Fulbright administrator at his school as well as having served on a screening committee, a great deal of helpful and useful advice was on offer.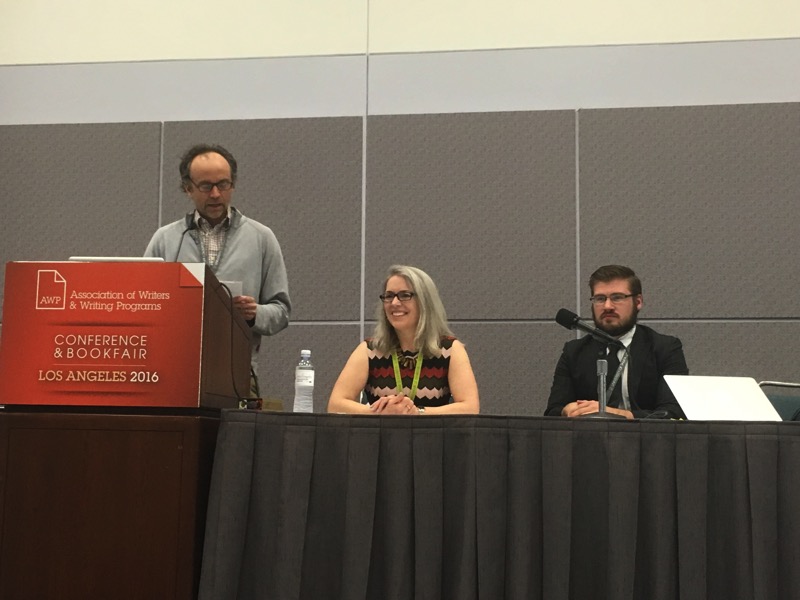 Fulbright is always looking for arts applicants and there are some significant advantages to applying as an artist. Applying through one's school (even if long graduated) can be helpful in the process although even more important is making an in-country contact to serve as the local sponsor. The more disappointing aspect of things was realizing that a key part of the program is wanting the Fulbright scholars to be actively interacting with the locals in the country of placement which is a bit of a challenge for an introvert like myself who would rather just be in his room with the door closed and something to type upon.
Two Sides of the Mirror: Writing about Body Image across Gender
I had my panels confused in my mind and thought I was going to "Invisible to Whom?: Black Fiction Writers on Craft and the White Gaze.". When I saw the panel, I thought that either I was in the wrong room, or this was a panel about to go overwhelmingly wrong. I hadn't considered the third option, that I had my memory of the schedule confused. But these people were not going to write about black fiction and the white gaze: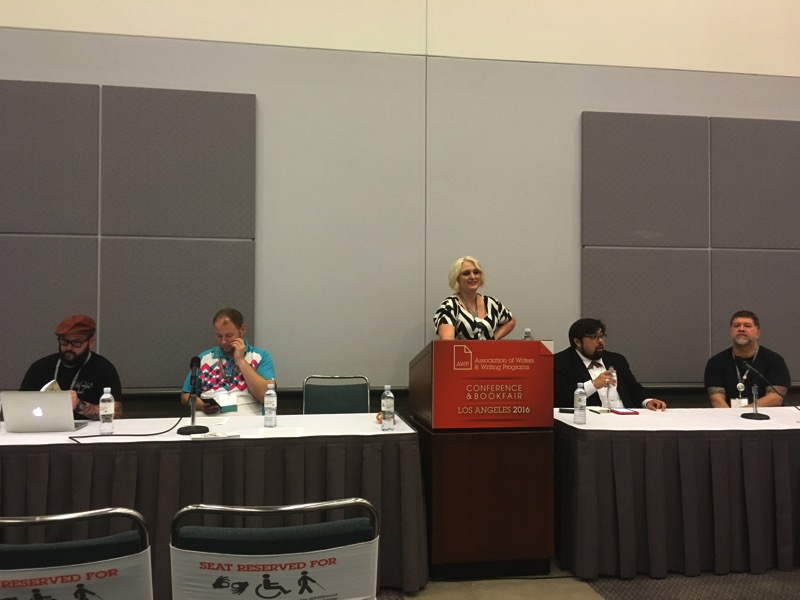 It turns out that this was also not the panel I was expecting. I had expected it to be panelists talking about writing about the bodies of people of the opposite gender of themselves. Instead, the across gender part of the title referred to the fact that we had writers other than women writing about body image issues. The diversity of the panel was somewhat interesting in this respect including a trans man. The winning quote of the panel belonged to Brian Oliu, "A successful essay confesses before the writer is ready." And I was transfixed whenever Jim Warner spoke.
Should I Know Who You Are? Book PR for the Modern Age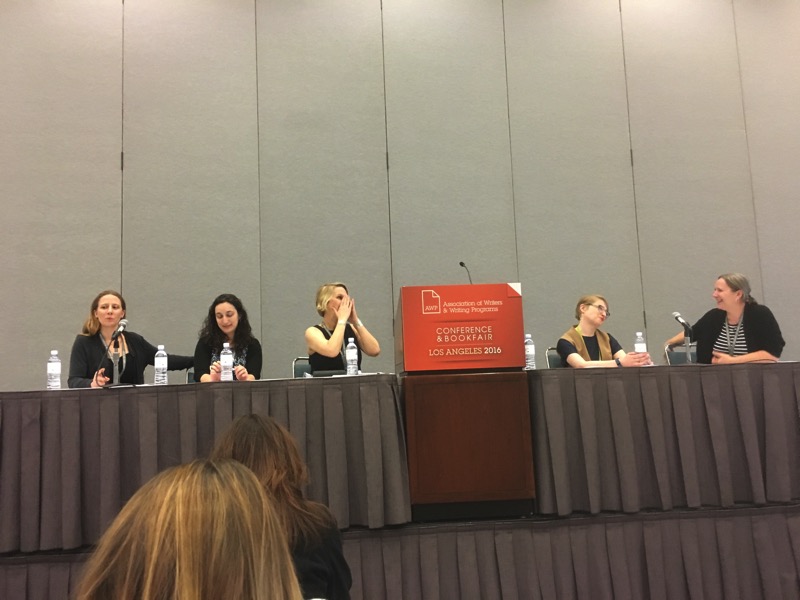 Much like with the expecting the first book panel, I'm a bit ahead of the ball in attending this panel.
Leslie Pietrzyk was kind enough to provide links to most of the essential information from the talk which I'll link to rather than provide my own half-baked notes. http://www.workinprogressinprogress.com/2016/03/bookpr.html
Literary Death Match
OK, they've hooked me, although I'm guessing that LDMs that aren't the tenth anniversary extravaganza might not be so extravagant. They videotaped the whole thing so presumably it will be available to relive on the internet or something. Here are a bunch of pictures: