Monday was another short day. After lunch we had Mikhail Iossel giving a seminar on close reading, which was a repeat of a seminar from an earlier residency. 
Then we had the final round of readings from the graduates. I really enjoyed the stories from Jared Silvia and Benjamin Tier, although all were good.
The evening reading was Carmen Gimenez Smith reading from her poetry. We'll have her for a seminar tomorrow afternoon.
Tuesday opened with a fiction workshop with Jeff Parker, looking at "Difficult Fiction" we examined stories by Lydia Davis, Etgar Keret and Daniil Kharms, taking them apart to see how they worked and then trying to wri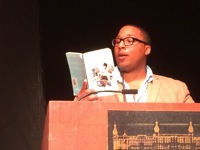 te something emulating the technique. I ended up taking a divergent path from something that Keret wrote in "Fatso" to do something which didn't really meet the parameters of the exercise, but which I think might be usable somehow.
The afternoon began with the first round of graduating student seminars. In addition to my own seminar, I attended seminars from Christina Boussias on revision and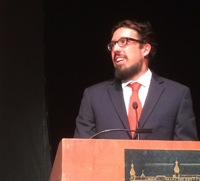 Kari Fuhrman on multiple plots in the novel. 
This was followed by a seminar from Carmen Gimenez Smith on documentary poetry which has inspired me to consider actually tackling the Chicago Sonnets project I've been thinking about for the past few years.
The evening readings were Marcus Wicker reading from his poems and UT MFA alum Nathan Deuel reading from his book, Friday Was the Bomb.