We began the day with another fiction workshop, this time led by Jessica Anthony, who answered the question of how do we compete with all the multitudinous inputs of contemporary life? Her answer: Surrealism!
We did a few surrealist exercises: First was the two minute conversation: Two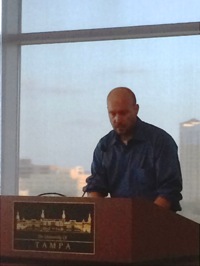 eople speak to each other for two minutes continuously on two different subjects simultaneously ("Victoria's Secret" and "frogs"). Dialog ends up being nonsense, but entertaining because of the juxtaposition. 
Anthony pointed out that when people speak, we're getting not only the spoken dialog, but the entirety of their subconscious as well.
The next exercise had us paired and one partner wrote five questions, the other five answers, without consultation. This creates a dialog, again nonsensical but with occasionally surprising emergences of meaning.
Language has multiple layers of meanings. Surrealism raises questions rather than answering questions.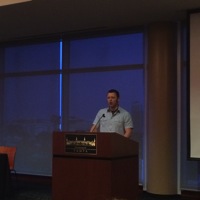 The seminar du jour was Jason Ockert on digression and how a digression can serve to develop the story in surprising ways.
Afterwords was round two of student readings, including myself. My selections were two short stories, "Le Pont des Arts" and "Thy Neighbour's Goods" both of which, but especially the latter, will well-received.
Evening readings were Jason Ockert and Benjamin Percy. Percy is an amazing reader with a scary intense deep voice, well-suited for reading from his werewolf novel, Red Moon.