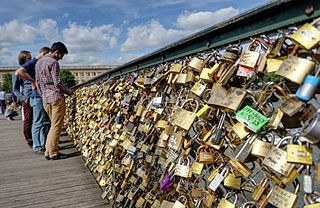 I wrote the first draft of this story while staying in the same apartment building in Paris where Katherine Mansfield wrote "Feuille d'Album." The apartment was located on Ile de la Cité a short distance from Pont de l'Archevêché which has become a popular spot for tourists to attach locks declaring their eternal love as described in this story. Le Pont des Arts, a bit further downstream is the original "lock bridge" of the story, which I didn't actually visit during the course of this trip to Paris.
I made a quick run over to Pont de l'Archevêché while working on this story to get good non-stereotypical-yet-still-French names for my characters. While looking over the locks I found that the vast majority were placed there by foreign tourists. Perhaps more amusing were the large number of apparent same-sex couples represented and a few locks which had three names on them (although my wife pointed out that these were likely parents and child and not, as I had assumed, the locks of a ménage-à-trois).
This piece was read by Terese Svoboda in an early draft and later by Jennifer Vanderbes, Carolyn Eichorn, Connor Holmes, Kate Sanger and Chelsea Wait.
Photo via wikimedia commons.