For a long time, I had managed to confuse in my mind G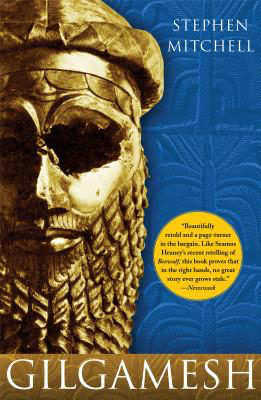 ilgamesh and Beowulf, most likely because of the earliness of the two narratives. I did puzzle about how I had managed to miss the flood story in Beowulf, not realizing my mistake. But then, I have a long history of this sort of confusion: as a child I had thought that Hogan's Heroes and MASH were the same show and couldn't understand why sometimes they were trying to escape. And after nearly two years, my wife pointed out that the Director of Curriculum and Director of Administration at my kids' school are two different people.
But I'm older and (a little) wiser now so I know that Gilgamesh and Beowulf are different works and I hadn't read the former, so when I got to the 890s, which encompasses the literatures of anywhere that doesn't use the languages of Western Europe, I decided to pick up this book. 
Reader, I was amazed. It's a gripping story, one which feels almost modern in its concerns. Certainly, there are parts that feel fable-like, but overall it's a fascinating read and its interest extends beyond its presentation of a version of the flood myth which predates the Hebrew Bible. I'm surprised that no one has made a film of the story. It would make a good movie.