We began the day with a seminar on revision with Jennifer Vanderbes. There were some nice resonances between what she was saying about specificity and yesterday's fiction genre workshop.
Today was my day to be workshopped, which gave me some excellent feedback on my first chapter of the novel. I'm inclined to do a complete rewrite of the chapter now, possibly deleting large pieces of it. Some of this might end up being spun off into a stand-alone story. Or perhaps I will split the chapter into two chapters.
The afternoon seminar was the return of Robert Olen Butler. More than a few of us had been put off by Butler's tendency to regurgitate From Where You Dream to receive it very positively.
This was followed by the last of the graduating student readings. The quality of the readings continued, much to my delight.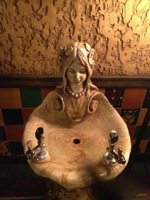 The day is closing with a late-ish screening of Hal Hartley's Trust at the Tampa Theatre. It's a beautiful old building with most of its 1920s-era fixtures in place. It's a great example of classic movie palace architecture with the Spanish rococo decorations surrounding the stage/screen and the theater organ on its hydraulic lift still operational.