So today (and yesterday) turned out to be quite the odyssey. The original plan was to take a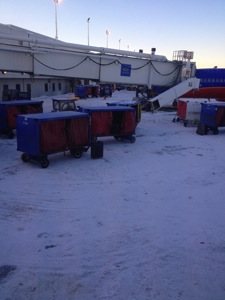 7.25p flight from Midway to Tampa, arriving at 10.50p. After a lot of delay, the flight was canceled. At 2a. I was able to get a seat on an early flight to Orlando (which was then delayed for two hours after boarding) and rent a car from there to get to Tampa (stopping at TPA to pick up my luggage), but ended up getting only four hours of sleep: two on the floor of the airport and two on the plane.
Apparently my late arrival was to make up for showing up on time for the first event last residency. I arrived just in time for the seminar on the thesis. Not a whole lot of new information provided.  The abstract frightens me. Writing a statement of artistic intent will be a challenge given that I'm not entirely sure what my artistic intent was in writing this novel, beyond telling an interesting story, and telling it well.
The evening's readings were poets Mary Biddinger and Erika Meittner. Their work reminded me of what I remember of our directory Steve Kistulentz's poetry.