Day 7
The morning opened with Rick Chase's seminar. He began with a bit of "buddhist" meditation. I use quotes and lowercase since I'm not entirely sure if that's how he views it, although the mindfulness of it does seem very much in that vein. He expanded from this into some poetic writing exercises.
Our first afternoon seminar consisted of Marcus Wicker and Ian Stansel talking about how to break out of the slush pile. Perhaps the most helpful part of this was learning what Stansel saw too much of in the fiction queue: first-person stories. Merely by writing in the third-person, a story can stand out. It kind of sucks for me since the vast majority of my short fiction is in the first person.
The second afternoon seminar was Leslie Jamison talking about going beyond the self in memoir, focusing on Joan Didion's "The White Album" in articulating her point.
The evening reading was Ian Stansel reading from Everybody's Irish and Leslie Jamison reading from The Empathy Exams.
Day 8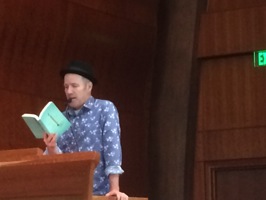 We began with more open time for those of us in our final residency. I got a bunch of writing done before lunch. The afternoon began with the last of the graduating student seminars. I heard Kathy Lockwood-Fleming give an excellent talk on characterization in memoir, Jared Silvia discussing revision techniques and Shane Hinton on the work of Daniil Kharms.
The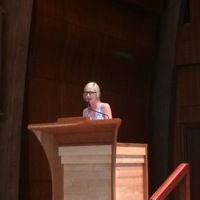 second afternoon seminar was another rerun, this time Enid Shomer revisiting a topic that she lectured on back in my first residency.
The evening reading was Rick Moody and Susan Minot. Moody read one story from Demonology and an excerpt from his upcoming novel. Minot read from Thirty Girls, her novel about the atrocities of Joseph Kony's army in Uganda.