Greek literature gets its own decade in the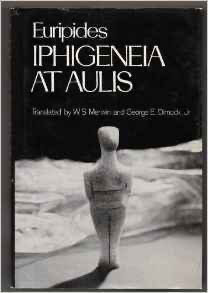 800s and I decided to pull this one off the shelf since (a) I've heard the title before (thanks to an assortment of operas whose titles I've heard even if I've never seen/heard any of them) and (2) it was reasonably short.
Many of the classic Greek stories are familiar even if we've not read the source material. I read Oedipus Rex a few months before I read this play and although I'd not read the Sophocles before, I still knew the outline of the story well thanks to its being deeply ingrained in the culture. On the other hand I'd managed somehow to not know this story which is part of the broader narrative of the Trojan war. The story is a dark tale, a tragedy in the classical Greek sense of the word, and Merwin's translation makes it all the more powerful. I can see why it was a popular source for so many operas.