I first heard of this book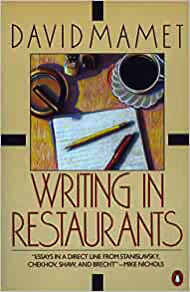 sometime in the late '90s when I was, on occasion, literally writing in restaurants, sitting at Mitchell's Diner at Clark and North with a ham and cheese omelet, a 5×8 spiral-bound notebook and a fine-point felt-tip pen. 
Mitchell's is gone now, replaced by an Elly's Pancake House which Google informs me is permanently closed and I no longer write long-hand, having realized that fetishization of process and tools meant that I was not really actually getting anything written. But Mamet's book is still on the library shelves so I decided to pick it up and see what, exactly it has to say.
Overall, I found myself unexcited by the book. So much so that when I finally got around to writing this blog post about a year after reading the book, I have little memory of its contents. Even going through Goodreads reviews to refresh my memory does little for me. It's strange that I have stronger memories of that omelet from more than twenty years ago than this book from last year.