The 700s conclude with "Sports,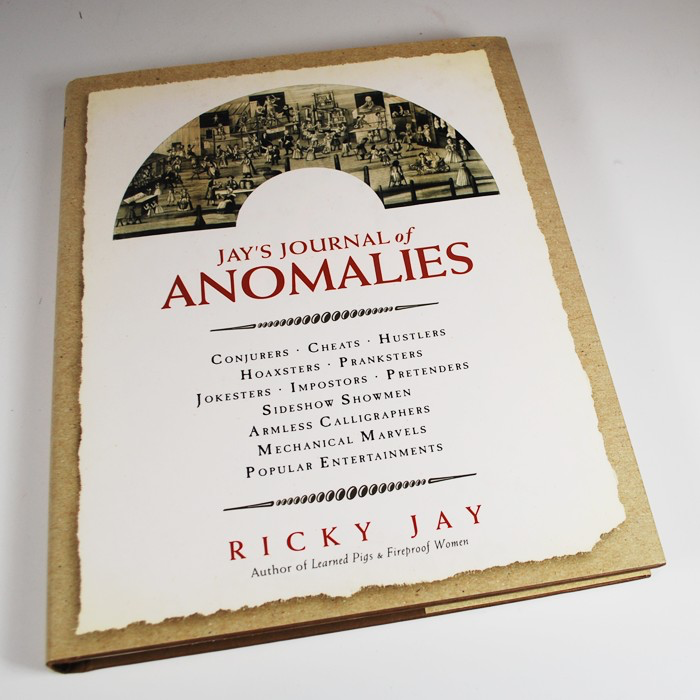 ames & entertainment." I had thought perhaps I might read a book about chess or even sports but then I spotted Ricky Jay's name on the shelves.
I have a vague notion that this might have been something that Jay mentioned in a Fresh Air interview, but even if I'd never heard of it, seeing the magician and actor's name on the spine would be enough to catch my attention. I first became aware of Jay from his collaborations with David Mamet and he had that rare charisma that made his every moment on screen electric.
This volume is a reprint of all the issues of a quarterly journal that Jay published at the end of the twentieth century looking at historical hoaxes, sideshow acts and other oddities. I noticed that the original was printed by Patrick Reagh, a letterpress printer I knew back when he still had his shop in Burbank (he was active in the Los Angeles book arts community at the same time that I had started a typography magazine and provided the type for an ex-girlfriend's art book). At a point in history where so many letterpress printers were using Vandercook presses to do production work, he still used them only for proofing, producing larger editions on his enormous Heidelberg press. (Pat, if you happen to self-Google yourself and turn up this page, hi!)
As for the book itself, it's a journey into the weird and wonderful. Jay managed to put together an encyclopedic knowledge of these odd corners of history along with vintage illustrations which are reproduced here. Jay takes these anomalies apart as only an expert at magic and deceit can.