In both Paris and Brussels, there are metro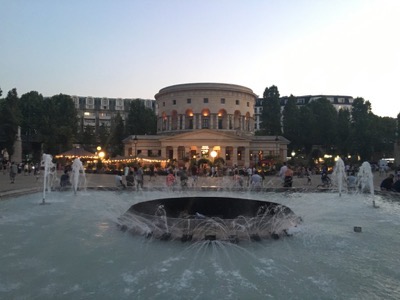 stops called "Stalingrad," a fact I found fascinating, especially since the city of Stalingrad was renamed Volgograd in the wave of de-Stalinization under Nikita Krushchev. On my last visit to Paris, I decided I had to see what was at the stop with this name so one evening while my pregnant wife convalesced in our AirBnB I headed out to the 19ᵉ arrondissement to see for myself.
The immediate environs of the metro stop are not particularly interesting. It's a nondescript neighborhood of shops and Hauptmann apartment blocks. But turn a corner and you find yourself at the actual plaza that gives the station its name. Situated at the southern end of the Bassin de la Villette, and far from the tourists who congregate in the lower-numbered arrondissements, it's a place of tranquil beauty with movie theaters and restaurants facing the water.
With this place in mind, I started wondering what sort of story might come out of the place and thinking about the artists selling their wares out of stalls at the top of Montmartre, I came up with my characters and their mysterious and absent classmate. It took a fair amount of rewriting and reorganizing to get the story in the shape that it finally took, but I am pretty happy with the end result. You can read it here.
Feedback on drafts of the story came from Barbara Richstone, Gerald Winter, Robyn Ringler, Steven Thomas Howell, Travis Kiger, Maaza Mengiste, Monica Zarazua, Dan Portincaso, Davy McNell and Lori Barrett,