For the first time since my MFA, I'm part of a couple of public readings of my work.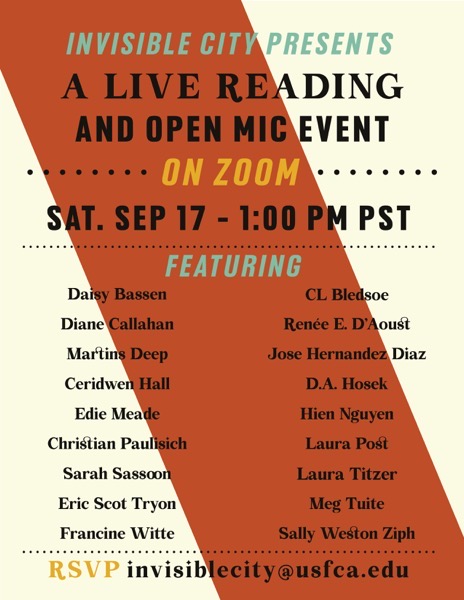 On Saturday, 17 September at 1p PST, I'll be part of a Zoom reading to celebrate the release of the latest issue of Invisible City in which I have a senryū entitled, "宝石の十字架" (don't worry, only the title is in Japanese). Since it's short, I've been offered the opportunity to read another poem, so I'll likely read one of the print-only poems from my Chicago Sonnets series. To avoid Zoom bombers, they've asked people to RSVP at this link.
Then, on Friday, 23 September at 7p CST, to celebrate the publication of my poem, "A song of Isaac" in I-70 Review, I will be reading in person at The Writer's Place, 31W31 Nonprofit Village, 31 W 31 St, Kansas City, Missouri. This will not be streamed, but on the off-chance that anyone reading this is anywhere near Kansas City that evening, I'd love to see you there. I-70 Review is a print publication. Copies can be ordered from their website for $15 plus $5 shipping and handling and will also be available for sale at the event in Kansas City.