I stopped reading Salinger over twenty years ago because I found myself being overly influenced by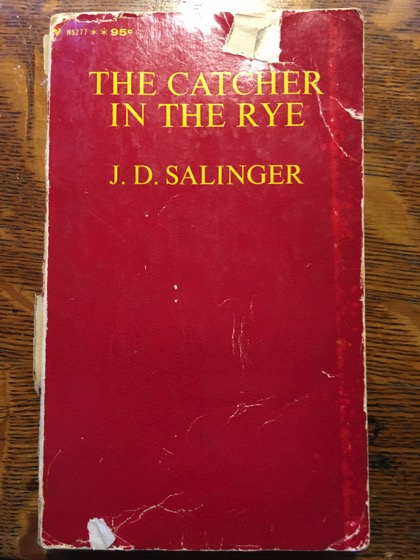 is voice. I've decided that I've developed a sufficiently strong voice of my own as a writer that I can allow myself a chance to re-read Salinger. My plan is to read the published books from Catcher to Raise High the Roof Beam Carpenters/Seymour an Introduction before revisiting the uncollected stories from "The Young Folks" to "Hapworth 16, 1924." 
I first read The Catcher in the Rye in one day on a Saturday suspension at the end of my senior year of high school in 1986. Along with reading the book, I wrote a short essay reflecting on the book, my experience of the Saturday suspension and a version of the facts (not especially accurately recounted) around the ditching the field trip that led to my suspension. High on Salinger's prose, the prose I generated led the teacher for whom this was a final assignment declared it "the best piece of student writing he'd ever read." This fine piece of writing is, of course, now lost to the ages.
I re-read the book a few times in the following decade as I became increasingly enthralled by Salinger's writing, especially in my undergraduate years and my copy of the book with the maroon and yellow assassin cover has grown a bit fragile as a result, but this is the copy that I re-read (I was tempted to purchase a new copy before a recent vacation and gift it to my oldest nephew after a quick re-read, but I ended up sticking with my battered copy for the re-read, hoping that the trips to the playground with my kids and a book wouldn't end with the book falling apart.
There's a special pleasure in re-reading a book, hitting the familiar beats that memory is ready to serve back to you along with the surprises of forgotten corners of the book. I'd forgotten how long the book stayed at Pencey Prep and found myself impatient for the story to get to the New York chapters which had been the meat of the book for me in all my earlier reads. Everything carries a host of additional associations in my mind now. Ackley will be forever associated with one of my college English profs who, in a conversation in his office, made a strong point of the assonance between  "Ackley" and "acne" which I took at the time as a bit of an insult aimed in my direction because of my own poor complexion. 
I did find that the book's rather abrupt termination was less satisfying to me now than it had been in the past. Catcher doesn't really have much of a plot to begin with, being more a series of scenes and the pleasure in the book is in the voice more than anything else, but it still felt as if Salinger might have just run out of gas at book's end and decided to just let it go.