This is, as far as I'm concerned, Salinger's greatest title (and he has some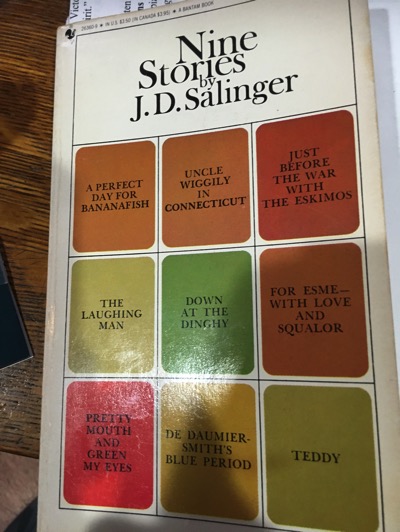 mighty fine titles, especially once we get into the uncollected stories). The structure here is a bit unusual, With the first part being a first-peron recollection of the narrator's meeting with the titular Esmé (and her younger brother Charles). Esmé is another of these precocious young people so common in Salinger's fiction (as an aside, I can remember one of my high school English teachers pushing Salinger on us AP kids with the suggestion that we would identify with precisely these precocious youngsters. I passed on Salinger at the time, but when I did finally read Nine Stories, I was very much in a place to be precisely charmed by said characters). The second part shifts into a third-person present-tense narrative which is ostensibly the narrator relaying his wartime nervous breakdown in the aftermath of D-Day and the occupation of Europe leading to V-E day with as much "squalor" as possible. The depiction of PTSD (a term that wouldn't exist until the 70s) in the story is expertly drawn and given the many parallels between the narrator and Salinger himself, it's not a far stretch to assume that there are autobiographical recollections as part of the story.
Given the use of the left turn in several earlier stories in the collection, this shows in some ways a both stronger and weaker use. The opening section is far stronger than the openings of "A Perfect Day for BananaFish" or "Down by the Dinghy," and does a better job of establishing the pre-PTSD character of the narrator, but the dramatic change in form of the narrative in the second half of the story feels a bit forced. Even so, I'm not entirely sure if it's a problem or a good thing.