2022 was an atypical year for reading for me largely because it turned out that 67% of the 103¹ books I've read this year were research for the novel, which, among other things, meant that my numbers got skewed in interesting ways, like the fact that only 29.5% of the books were fiction (compared to  38.9–60.8% in the years that I've been tracking). Even with that, I did meet my goal of half of my books by women (50.2% in fact) although I fell short of my goal of 20% non-white authors with only 19% PoC authors. There will be graphs after my list of favorite books which starts below in no particular order. Not too surprisingly, it's a bit heavy on books I read as novel research.
And now, time for charts and graphs: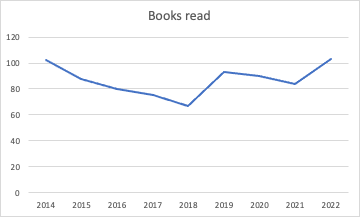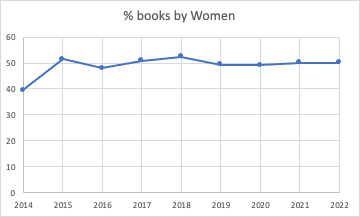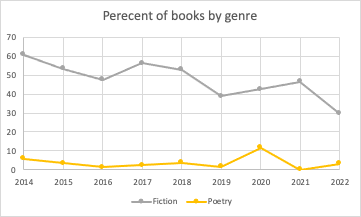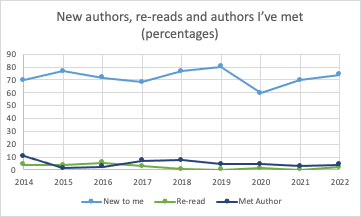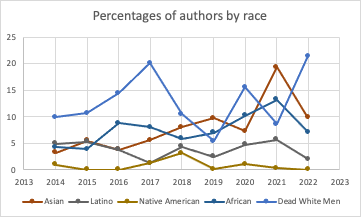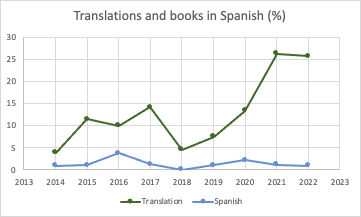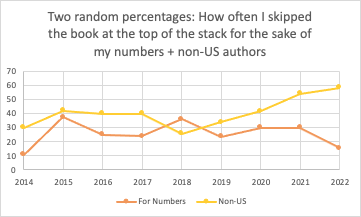 ---
I'm jumping the gun a little with this post as I've not quite finished books 102 and 103, but I will have them done by Saturday night so what the heck.
Although truth be told, I've never read her in translation, but I have a hard time believing that some of her linguistic choices would translate well.